CONTACT US
We want to hear from you!
IMPORTANT NOTICES:
DUE TO HIGH DEMAND AND CURRENT COVID-19 PRECAUTIONS, WE ARE EXPERIENCING DELAYS IN
ORDER FULFILLMENT. SINCE 1987 WE HAVE PROUDLY DEDICATED OURSELVES TO PRODUCING HIGH-QUALITY,
AMERICAN-MADE KNIVES IN THE HEART OF THE PACIFIC NORTHWEST, AND WE ARE WORKING AROUND
THE CLOCK TO MEET YOUR NEEDS WHILE UPHOLDING OUR HIGH STANDARDS FOR QUALITY AND PRECISION.
WE APOLOGIZE FOR THE INCONVENIENCE, AND WE APPRECIATE YOUR PATIENCE AND SUPPORT.
CURRENT LEAD TIMES:
- PRODUCTION KNIVES WITHOUT CUSTOM LASERMARKING: 10-15 BUSINESS DAYS
- PRODUCTION KNIVES WITH CUSTOM LASERMARKING: 18-23 BUSINESS DAYS
Monday-Friday Mon – Sat / 9:00 AM-9:00 PM PST
IMPORTANT NOTICE: At this time, email us directly
[email protected]
Our current response time on emails is 3-5 days.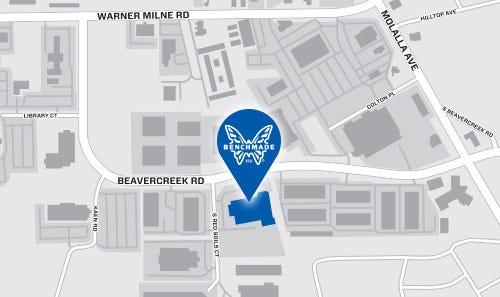 BENCHMADE FACTORY LOCATION
300 Beavercreek Road
Oregon City, OR 97045